Pinomatic Oy is mechanization supplier to non-settling log-, CLT- and glulam production and LVL- and plywood industry.
PINOMATIC OY - WITH HUNDREDS OF PROJECTS EXPERIENCE
Pinomatic Oy has now been in business for over 30 years as a mechanization supplier for the wood processing industry. The company was established in 1988. During that time, we have acquired a significant role as a supplier of mechanics and automation for further processing of sawmill industries. We are significant supplier in Europe, the share of exports is over third and will grow in the future. We design, manufacture and market the production lines and equipment, i.a. for non-settling log-, glulam- and CLT production and LVL- and plywood industry. Close co-operation with the customer from designing to start-up ensures the best possible result to all our customers!
years of experience in manufacturing
employees working for the company
equipment delivery countries
happy customers around the world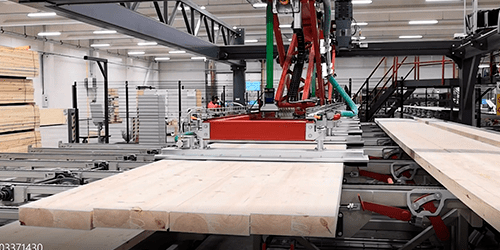 The new production line produces the non-settling SmartLog of Kontiotuote. According to Kontiotuote, in addition to the domestic market, there is a high demand for logs worldwide. Currently, Kontiotuote supplies buildings, in addition to Finland, to approximately thirty countries each year, France, Russia, Japan, and Sweden being the largest export countries. The investment almost doubles the capacity of log production capacity of Kontiotuote. As the only log house manufacturer in the world, Kontiotuote processes and produces wood products itself from logs all the way to finished products.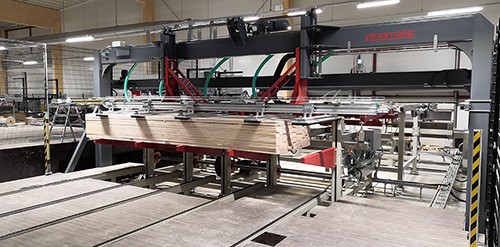 Pinomatic Oy has been cooperating with Nerkoon Höyläämö — a family business located in Kihniö — for a long time. Nerkoon Höyläämö uses around 45,000 m3 of wood every year, consisting of spruce and pine. The company produces exterior and interior panels and mouldings as well as impregnated products. Pinomatic made its first delivery of a painting line mechanisation to Nerkoon Höyläämö already 15 years ago. Since then, the cooperation has continued and the most recent deliveries were a planer line in early 2019 and material de-stacking equipment in 2020.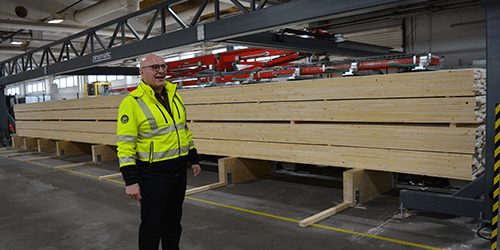 CLT Plant Oy started production of clt plates in autumn 2018 in Kauhajoki, Southern Ostrobothnia. The area is renowned for its entrepreneurial spirit, and this is also an indication of how and, with the help of a common spirit, even this big project starts to move. The company has a number of shareholders, most of whom are local individuals and companies. The factory is the third production unit to manufacture clt in Finland.